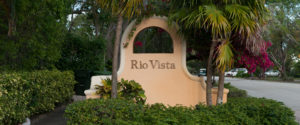 The Rio Vista neighborhood is one of the most family oriented communities in Fort Lauderdale.  What makes Rio Vista so special is that it is located steps from the downtown business district, trendy Las Olas Boulevard, plus all the best beaches. It has the feel of suburbia with children playing in the streets and holiday extravaganzas where the entire neighborhood participates. My personal favorite aspect of Rio Vista is how welcoming everyone makes newcomers feel.  You will find the "who's who " of families in South Florida living in Rio Vista. However,  you would never know it due to the low key vibe. I've been a resident and real estate agent for almost 20 years in South Florida who has seen it all. Rio Vista is currently the most desirable community for families with young children that desire the finest happening coastal lifestyle.
The Rio Vista landscape consists of of over 1,000 homes. All of the streets and sidewalks are tree lined with an old Florida beauty. The original homes date back to the early 1920's. They are some of the oldest in Florida. You don't have to go to Key West to get the infamous Dade County pine wood floors. Hundreds of homes in Rio Vista still have them. Rio Vista has a rich tradition you have to see to truly appreciate. The boundaries are from Federal Highway on the west, the Intracoastal by the west, and the New River on the east.
This is one of my favorite areas to show homes. Even if you're just browsing, I'll happily show you the area. It's that much fun!
Click on the links below for other areas in the Getting to Know the Neighborhood series:
Victoria Park – Fort Lauderdale, FL
Harbor Beach – Fort Lauderdale, FL
Flager Village – Fort Lauderdale, FL
Related Posts
Please find below a list of all the sales and leases at…

First post of the New Year to celebrate Harbor Beach.  This one…

Flagler Village, the name would mean nothing to most native residents of…