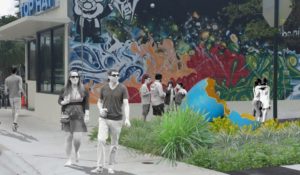 Flagler Village, the name would mean nothing to most native residents of south Florida until recently. It wasn't that long ago Flagler Village was nothing more than a bunch of empty warehouses with homeless on the doorsteps. A prominent establishment owner described the area just a few years ago as "pretty sketchy" and full of crackheads, but says the artists' presence has helped legitimize it. "At first, there were numerous break-ins; some tools and laptops were stolen. From our back roll-up door, I could see folks in the park across the way smoking crack and heroin and having sex."Times have changed in the area just north of Broward and Las Olas. Those same steps now belong to coffee shops and restaurants with Marilyn Monroe murals that would make Andy Warhol look twice.
The beauty of Flagler Village is how natural the maturation process proceeds itself. The area has clearly taken advantage of the growth just to the south. It has miraculously catered to various people and gone from a ghost town to a funky paradise. Flip-flops aren't dancing shoes. But on any given afternoon in Fort Lauderdale, you can find too-tan folks working off hangovers by chugging Coors Light, jamming out to covers of Lynyrd Skynyrd… in flip-flops. Growth started in FAT Village (Flagler, Arts, Technology), the locus of last-Saturday-of-the-month art walks that have drawn thousands to the area. The founder of this neighborhood is Doug McCraw. Back in 1999, when he purchased properties here, even he was hesitant to drive through the area at night. "We knew the potential was there for years," McCraw explains. "We just had to figure out how to do it."
Art Falcone's Encore Capital Management is launching a new rental project in Fort Lauderdale called 'The Rise Flagler Village,' which is planned to rise 30 stories at 405 Northeast 2nd Street.The developer secured $75 million in construction funding this week from Pacific Western Bank and Square Mile Capital. The 348-unit development was designed by Cohen Freedman Encinosa & Associates Architects Pa Inc. and is expected to begin construction in the first quarter of next year. Including in the plans is an amenity deck with a pool, a garden, a fitness center, and a lounge area. There also will be ground-floor retail."The number of young professionals living in this part of Fort Lauderdale is rapidly growing, and housing is in high demand," Falcone said in a statement. "Many of them prefer to rent in an amenity-rich, luxury apartment building, rather than worry about purchasing a home. 'The Rise Flagler Village' will be built to serve this growing population.
Food in Motion is a monthly nighttime farmers market taking place every second Friday of the month at Peter Feldman Park. Lots of food trucks show up, too. The event takes place at 310 NE Sixth St. For the first three years of the event, Hammond set up puppet shows in the street for free. He cofounded the FAT Village Arts Association with a few others, developed the first maps and websites of the area, and branded the art walk with Loose. Once FAT Village became too crowded for him, he moved his work space to Wilton Manors. The nightlife scene in the neighborhood north of downtown Fort Lauderdale has surged in popularity over the past year. Following are nine bars, restaurants and cafes that make up Flagler Village's new class. Some of the eclectic eats include: Henry's Sandwich Station, Bean to Brew, Tula Bistro & Garden, JB&C Juice Bar, and my personal favorite…Top Hat Deli.
There are a variety of apartment complexes and condos already flourishing in the Flagler Village area. The most well known are The Manor, Edge, and AMLI. These are conveniently located on the western border of Federal Highway just north of Broward Boulevard. There are several others to choose from including ID, Ora, Village Place, Progresso Point. The residences are mostly newer units with contemporary styles and open floor plans. The majority are more affordable for the same amount of space and quality in Flagler Village as opposed to being on Las Olas. It's no wonder Flagler Village has quickly become one of the fastest growing areas in Broward county.
Click on the links below for other articles from the Getting to Know the Neighborhood series:
Rio Vista – Fort Lauderdale, FL
Harbor Beach – Fort Lauderdale, FL
Related Posts